Well after 2 years of being in New Zealand and being surrounded by homes with beautiful gardens, I knew I was going to redesign our backyard when I got home. Most American homes have open backyards which I was not used to even after living in the US for almost 10 years. So the criteria for the landscape were a fence, a border flower bed, a compost bin, and a vegetable patch. I had a landscape drawing all ready to go prior to leaving NZ.
Within the first month of returning home, I had the contractor selected and they went to work. It took about two weeks after the material was delivered. The men came and put up the posts, then the runners, and then the fence boards and it was done.
This Spring, we started digging the sod out for the flower border. That was backbreaking work. It took months since it was just Jim and I working on it over the weekends.
Below is a picture of my vegetable patch. The landscaping around it is not complete yet but we have harvested many rounds of butter-head lettuce, mesclun and Chinese vegetables.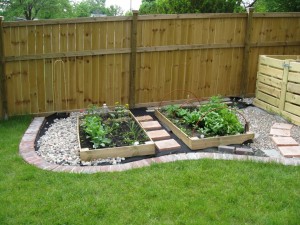 I have to take some pictures of the flower bed when the flowers start blooming. I bought a couple pots of hydrangeas last week and got couple of hybrid tea roses from my neighbor. I'm also waiting on my mail order of Peruvian Lilies (alstroemeria) to complete the bare flower bed. A couple of weeks ago, I spotted New Zealand Flax. They reminded me of the ones in front of Tessa's house. When I look closer to the tag, it shows that the plant is an annual and will die off in the Midwest winter. I am still on the lookout for hardy flax. I wanted it to be the plant that reminds me of NZ.
4 Responses to "Landscaping our backyard"