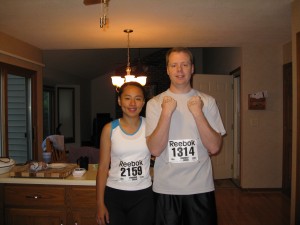 The race actually started the night before, at least for me, because the adrenalin kept me up most of the night. At 5am the alarm went off and we started getting ready, I very reluctantly! It was pretty simple, since we'd prepares the few little things the night before, such as getting are numbers pinned on, getting the RF ID chips used for timing attached to our shoes, and figuring out target split times (written on my hands–no I'm not preparing to flip off the blogosphere). All very simple, yes, but Angela and I are both chronically tardy, and on previous occasions we've started this morning with a mad scramble looking for safety pins, a watch, etc. We made it downtown around 6:20, met with out Building Steam group, and headed to the line-up for 7am start.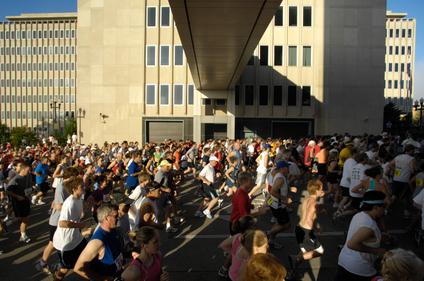 I'll spare you the race details, because if you've run a race you probably know the details, and the rest will find them a bit dry I'd imagine. In a sentence, it was a great day for a race, but it was extremely challenging for both of us. The results were very good, however. I not only surpassed my goal of beating my 2005 time, but at 35:42 came within 14 seconds of my 2003 time… much better than expected. Angela finished in 37:16, beating her goal as well. Interestingly, a woman from New Zealand won the woman's 4-mile race. (Another Kiwi holds the course record for the women's Masters class for 4-miles.)
All in all a great race and great time, and one I hope to write about annually for years to come!
2 Responses to "2008 Steamboat Classic (Part 2)"
#

Christian

on 17 Jun 2008 at 9:41 pm

Way to go!

#

Angela

on 22 Jun 2008 at 2:20 pm

Jim, left out the details of the two of us pigging out after the race. There were free food at the Riverfront for participants. We gobble muffins, bagels, bananas, apples, Mrs fields cookies.etc. We love the atmosphere after the race, a real crowd downtown Peoria is such a rarity especially when it is for a sports.