There is nothing like receiving a care package from home.  It doesn't matter how crumpled the package looked like nor does it matter that the content of the package is not something expensive.  My mum has been sending me a care package for Chinese New Year for the past 15 years.  Every year the package received look battered and bruised,  there were years where J and I just used a spoon to eat cookie crumbs.  The cookies were turned to crumbs on its voyage from Penang, Malaysia to Peoria, IL, USA.  The parcel that I receive this year was in such a good  shape compared to years before that I had to take a picture.  Since it's Chinese New Year and Valentines,  I thought I'd share  a little piece of love and happiness from home with all of you.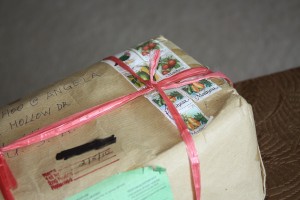 Happy Chinese New Year.
With Love,
Angela
One Response to "Package from Home"
#

Erin

on 14 Mar 2010 at 12:36 am

I like this picture. I do this thing called Peoject 365 where I take a picture everyday- or at least if something 'prompts' me to. All photos don't have to be of some big occasion. This shot will bring a smile to your face for years to come.