When we moved back to the US, we had already purchased my parent's VW Passat as a primary car, and I began looking for a second vehicle.  Nothing caught my fancy, and I settled on a little 2004 Kia Spectra: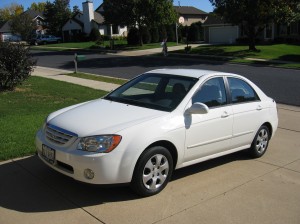 2004 Kia Spectra, perfectly ordinary
The Kia was an OK car, and the interior looked just about like my 2000 Civic, but there was nothing very fun about it and the city mpg was pretty poor.
About 6 weeks ago I officially decided I'd consider buying a new car.  It didn't take me long to realize that not much even in crop of new vehicles was very interesting, so I seriously began mulling over getting a Prius, which I'd driven for a few days in Nevada and quite liked.  The fuel economy was a major draw, but I also just liked the car: looks, handling, interior gadgets, etc: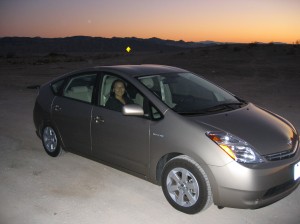 Prius rental in Nevada, planting the seed.
A month ago I plunked down a $500 deposit and ordered the car, sight unseen.  There was not a new or used Prius within 100 miles, and the Toyota dealer didn't even have one to drive or show.  Had I not already been familiar with the car, I'd have been SOL.  Five weeks ago they told me it would be a 2-3 month wait, and when I ordered the car a week later it had become a 3-4 month wait.  I called some other dealers in the region and got the same or worse story.  The local dealer said his Prius selling rate had gone from ~1/week to ~5/week in a matter of a few months.  I decided it would be worth the wait.
1 1/2 weeks ago I received a call at work: for unknown reasons, a guy who was way up in the queue had canceled his order and stepped out of line, and he had ordered the exact same car that I had (color/interior/packages).  They offered it to me. Yes, I took it!  I scrambled to post my Kia for sale, rather than get killed on the trade, and managed to unload it in 24 hours.  Thank you autotrader.com.
Yesterday, I picked up the car after work and have just been getting familiar with it.  There are a LOT of interesting things about this car that I'm not used to, and I'm having a lot of fun discovering them.  Though the Prius is known for its "green" audience and people mainly know about its 47 mpg (city), I can tell you this is by far the nicest car I've ever owned.  The build quality and materials are excellent, interior layout is good, and the whole car is very very well designed.  I think it looks good too!  I've posted some photos on Flickr.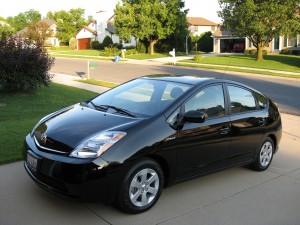 2008 Prius, in all its new car glory.
By the way, if you're interested in one, I wish you the same luck I had.  I at least hope you're patient.  The dealership just told me that they're taking deposits on new Priuses…. for delivery as early as next March!
One Response to "Prius"
#

Christian

on 03 Jul 2008 at 9:11 pm

Nice ride.