A few minutes ago I heard the blaring of the weather radio and was alerted to the first tornado watch of the season.  It was a good reminder that severe weather is upon us, and I encourage you to get a good weather radio, or upgrade to one of the modern versions if need be.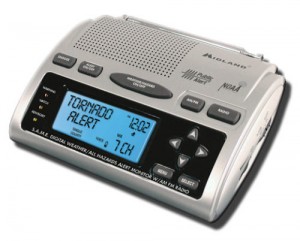 New weather radios are pretty sophisticated.  I have ours set to turn on for just certain alerts, and only when they're affecting our county.  The alarm is really loud when it goes off, and a text displays accompanies the announcer.  It has a normal radio and alarm clock too, so it completely replaced the bedside clock.  Throughout the year we turn it on every morning just to get the weather forecast, so it's useful beyond severe weather.  Last year I picked up the Midland model shown here for $50 on Amazon.
Late last summer I realized a big advantage of the radio over other warning methods: time.  It was night, around 10pm, and I was up watching TV.  I heard the alarm go off and scurried to the bedroom to check it.  "Tornado Watch".  Since Angela was already in bed, I brought the radio downstairs with me and continued watching TV.  About 30 minutes later, the alarm turned on again, this time with a "Tornado Warning" message.  I went upstairs and convinced Angela she really should get up, and we should go in the basement.  We did, and sat there for a few minutes.  After about 5 minutes, the local tornado sirens started blaring outside.
Ultimately the tornado did not touch down, but what if it had and we didn't have the radio?  Would we have heard the outdoor sirens, and would that 5 minute delay have been too much?  I'm convinced that these radios are essential in every house, and I encourage you to considered getting one as we head into spring.